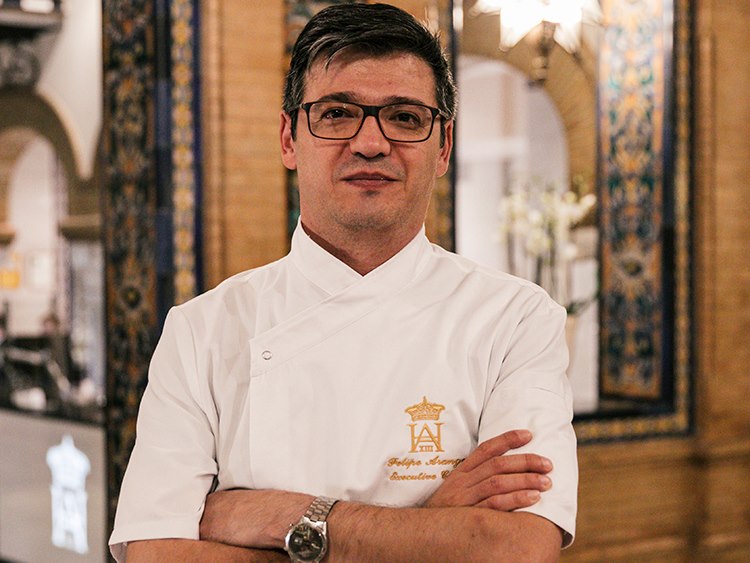 Felipe Arango
Felipe Arango Salazar, born and raised in Bogotá, Colombia within a family of professional artists. Chef Arango's interest in the culinary arts started at an early age when he began to see cooking as a form of artistic expression. Chef Arango studied gastronomy at the Escuela Superior de Hostelería de Sevilla in Spain, where his gastronomic journey blossomed as he studied and worked alongside Michelin-starred chefs such as Julio Fernández, Paco Pérez and Sergi Arola.
In 2010, Chef Arango was named Chef de Cuisine at The Ritz-Carlton Hotel Arts Barcelona, where he oversaw and mastered the intricacies of the kitchen. Chef Arango remained at The Ritz-Carlton for thirteen years, holding positions including Chef de Cuisine at The Ritz-Carlton, South Beach, Executive Sous Chef at The Ritz-Carlton, Key Biscayne Miami, Executive Chef at The Ritz-Carlton, Bal Harbour, as well as Executive Chef at The Ritz-Carlton, Budapest, Hungary.
He has also worked for other properties in the luxury segment of the Marriott chain such as The JW Marriott Absheron in Baku, Azerbaijan and The St. Regis Bahia Beach Resort in Puerto Rico. Most recently, Chef Arango served as Executive Chef at the Marriott Dead Sea Resort & Spa in Amman, Jordan. Chef Felipe Arango returns to Andalusia to put into practice his knowledge of many years in various countries around the world and elevate the dining experience for guests and locals alike. He will oversee the various culinary venues at the Hotel, including the San Fernando restaurant, Ena Seville and the entire banqueting operation at this stunning property.